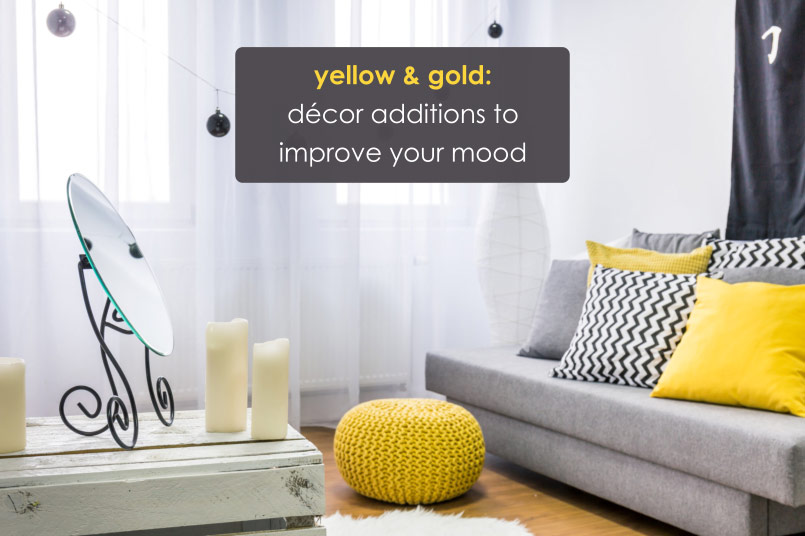 When decorating your home, the colours you decide to use can vastly alter the atmosphere of your chosen room, something of which many people now take into account when perusing different colour palettes and shades. As a whole, it is well known and understood that we react on an emotional level to colours, with bright, energetic tones typically lifting our spirits and encouraging productivity whilst deeper colours offer us a sense of comfort and peacefulness. When applying this to home décor, this can be used to your advantage, whether it be for creating a unique atmosphere or as a natural mood booster.
Today, we are putting the spotlight on the use of yellows and golds, both of which we think work best in home décor as an accent colour to emphasise or co-ordinate with an existing palette. Not only will we outline the best colour palettes for yellow & gold, but we'll give you some ideas to get you started!
What emotions do they evoke?
A beautiful, bright and versatile colour widely associated with the sun, yellow can symbolise a number of feelings including optimism, growth and general happiness. Having been used for centuries for its close ties with gold, it can also connote infinite wisdom and wealth (both of which we could all do with more of!) It works fantastically in home décor as not only does it compliment many colours, it also works well with different themes, whether it be a shabby-chic country kitchen or an ultra-modern living space.
On a deeper level, yellow can also evoke a number of psychological responses dependant on the tone used – for example, a cool lemon yellow is deemed bright and exciting to view, whereas a darker ochre shade is warm and comforting, often appreciated and worn in the colder seasons. To co-ordinate, yellow works well with many colours (including citrus green and orange) but goes exceptionally well with grey, which is seen as the perfect contemporary contrast.
Gold on the other hand is seen as more of a luxurious colour linked with glamour and excitement, perfect for adding a hint of elegance to any aspect of your home. It works wonderfully with deep purples and corals, adding a warm, alluring vibe to its chosen room with ease. We recommend adding hints of gold to any room for that ultra luxurious feeling.
Ways to incorporate yellow & gold
If you would like to inject aspects of yellow or gold (or both!) to your home's interior, we recommend starting small by incorporating accessories first. As a starting point, updating your curtains in your chosen room can enhance the natural lighting streaming through your window, subsequently bathing your room in a warmer hue that can be extremely comforting. This works well in areas of your house that receive a lot of natural lighting but can also benefit rooms that don't. Adding yellow (or gold) curtains can give the perception of a beautiful sunny day outside without the sun! At Tony's Textiles, we have an excellent range of ready made curtains and made to measure curtains in gorgeous golden yellow hues.
Another simple refresh is making changes to your bedroom. If you are thinking of updating your bedroom to incorporate yellow and gold, a simple duvet cover or bedspread update could instantly refresh your room in an effective and cost efficient manner. For an ultra-glamorous room, we recommend going for gold, a really simple but stunning addition that radiates elegance. For those hoping for something a little different, a contrasting yellow and grey duvet cover can quickly become the main attraction of your room with its eye-pleasing and unique appearance. Check out some of our favourites below:
Last but not least, if you're unsure which room to focus on, why not add an element of sunshine to all of them? We have a wide range of home accessories that could be just the ticket that you can incorporate to a number of rooms throughout your house as you please. Perhaps build up your cushion collection with a beautiful gold addition, or maybe a bright yellow footstool would add a sense of fun and personality to your living room? The possibilities are endless!
And there we have it! Whilst yellows and golds can be a fantastic addition to your home, we would love to hear your thoughts too – let us know your favourite colour in the comments below and perhaps we'll do a feature in the near future...