Bed Valances - What are the Options?
A valance is a decorative sheet that hides the base of your bed, a bit like a skirt. There are several different types of bed valance that can add the finishing touch to your bedroom.
The first thing to be decided when choosing a valance is whether you want a Base Valance (also known as a 'Platform Valance') or a Sheet Valance (or Valance Sheet).
A Base Valance covers the bottom of a divan bed and is fitted under the mattress.
A Sheet Valance covers the mattress and the bottom of the bed and is fitted over the mattress, acting as the fitted sheet as well as the Valance.
When choosing a Base Valance it is important to know the depth of your bed and when choosing a Sheet Valance it is important to know both the depth of the bed and the depth of the mattress. For example our Base Valances have a 16" skirt and our Sheet Valances allow 9" for the mattress depth and also have 16" skirt, totalling 25" for the overall depth for the bed.
Here are some images of the different valances available:
Box Pleat Valance
Frill Valance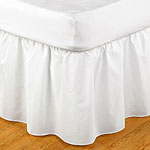 Straight Valance